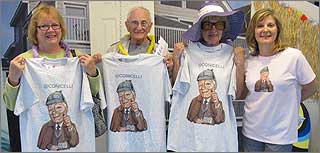 Winners of the 2013 "I Spy Mr. Nice Guy" Beach House Contest (from left to right): Kathleen Gallagher (grand prize), Joseph Bontempo (2nd prize), and Betty Strain (3rd prize), with Conicelli Autoplex Internet Sales Director Lori Hammond.
Conicelli Autoplex
held the drawing for its
"I Spy Mr. Nice Guy" Beach House Contest
on Tuesday evening, May 7, 2013 in the Conicelli Honda showroom in Conshohocken, Pa.
The contest had been running since February, with Conicelli management spotting over 100 drivers with "I Spy Mr. Nice Guy" magnets displayed on their vehicles, which entitled them to a $20 gift pack and the opportunity to participate in the contest with a grand prize of a week in a Sea Isle City oceanfront condo.
After kicking off the festivities with refreshments, snacks and games, all of the contestants were registered to play in the drawing. In all, there were more than 40 contestants on hand, and the first segment of the contest was held, where a surprise contest for Best Dressed Contestant was held.
Betty Strain
and
Donna Garretson
each won in a tie, and each received a $75 gift card.
Then the main event was held, the drawing for the Beach House. The Grand Prize of a week in the beach house was won by
Kathleen Gallagher
, from Philadelphia Second Prize, a $350 gift card, was won by
Joseph Bontempo
, a Norristown resident, and the Third Prize of a $150 gift card, was won by
Betty Strain
of Philadelphia.
Thank you, everyone, for participating. Keep that "I Spy Mr. Nice Guy" magnet on your car, because it won't be very long before the next big contest begins! In the meantime, Conicelli management will be giving away $20 gift packs to lucky drivers who are spotted with a magnet on their car.